Internship Positions
CX is offering the following internship positions in Quetzaltenango, Guatemala.
6 weeks (200 hours) minimum

high-intermediate to Advanced level of Spanish (intensive study available through the Casa Xelajú combined Spanish and Internship Program)

Knowledge and experience in the field in which you are applying to work.

Ability to work independently and be self-motivated.

A strong interest in working with people from different cultures and economic classes.
Note: deadline is 6 weeks in advance of your desired starting date!
Please read through the information about our Internship Program before contacting Luciana de Leon at luciana@www.casaxelaju.com with further questions.
---
Internship project areas:
Web-Developer Internship. Casa Xelaju is looking for a student with skills to redesign our website www.cx.edu.gt. This is a six-week internship with a flexible schedule of around five hours a day.
Stipend includes homestay with a local family, 3 meals a day from Monday to Saturday, participation in our social and cultural activities, ground transportation from Guatemala City to Quetzaltenango.
Preferred Qualifications:
Demonstrated history of successful website design
Basic level of Spanish
Ability to work independently
Previous cross-cultural experience
Human Rights Internship
Human rights support fieldwork research, community visits, workshops.  You will be working with Delegaciòn Departamental de Derechos Humanos, Quetzaltenango, a divisiòn of El Procurador de los Derechos Humanos de Guatemala.
This an autonomous government organization helping to solve social conflicts in the country where the police, army, local and national groups do not agree.
It also protects children who are forced to work by the parents. This position requires some traveling to the area where the conflicts are taking place. All the transportation will be provided by the PDHG.
Proyecto La Pedrera
Proyecto La Pedrera offers work with children from 3-5pm Mondays through Thursdays helping with homework, teaching and providing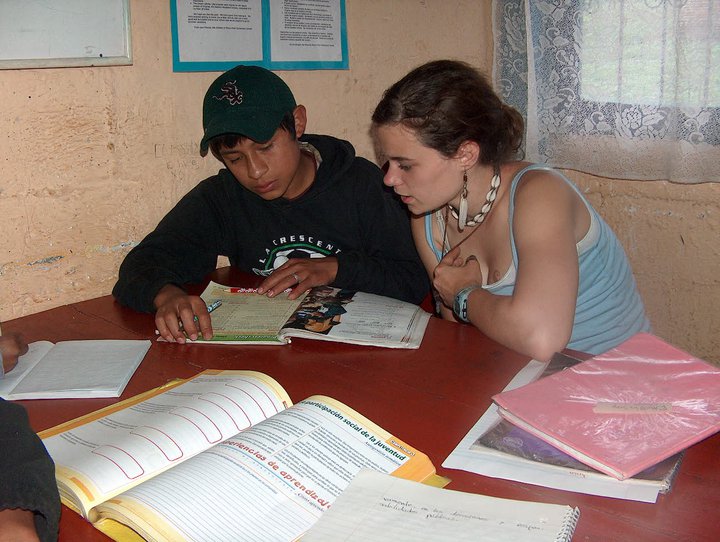 recreational activities.
Agriculture
Assist in the marketing of agricultural products, offer technical support, teach about horticulture, help with organic gardening, and work on development projects such as environmental protection, stoves, tanks, and latrines.
Animals
Care for animals, feed, clean cages, gather eggs, help fundraiser, construct buildings, conduct community education, office work, guided tours of the center, and translations.
Art/Culture
Help facilitate art classes in rural communities, design, photography, fundraising, marketing and sales, store management, and translation.
Construction
Work available for trained engineers, architects, or do hands-on construction, marketing, or fundraising.
Computer education
New. Teaching basic computer skills to children and adults at la Pedrera. Our Community Project La Pedrera computer lab has 19 computers with an internet connection.
You will be teaching basic to intermediate computer skills to students from elementary school to high school in the afternoon and morning. You will be making a big impact on the life of our students.
They will be able to compete for a better job when they finishing school. La Pedrera Community is a mile away from our main building.
Homestay with a local family.
Environment
Positions depend on the season; however, volunteers can always work with coffee and macadamia crops. Other positions include teaching English in a rural area, working in an eco-hotel or on the eco-tourism program, maintaining a pure water project or bamboo furniture project, assisting in the office with administration, promoting hikes, or being a volunteer guide for hikes.
Health/Medical
Help in the clinic, lab, pharmacy, or reception. Work individually with patients, work on education and physical therapy with individuals of all ages and help with activities. 
Volunteers with training in nursing or psychology and advanced Spanish can work directly with patients in a hospital setting.  Community Outreach – Facilitate workshops on sanitation, nutrition, and other public health topics in rural areas.
Women
Support Guatemalan women with limited resources to provide additional economic income to their families. Help with workshops, training, consulting, budgeting, and accounting. Organize activities with the objective of learning to live an independent life.
Youth/Children
Devise and organize fun, educational and creative activities, help organize excursions.  Help is also needed with fundraising events, publicity, and grant applications.
*Please contact our Volunteer & Internship Coordinator to check on the availability of specific positions.